Replacing plastic cup lids with biodegradable cup lids may only be a small step. However, it certainly has an effective impact on our environment. Discover amazing facts about eco-friendly cup lids that will blow your mind!

Derived from renewable plants and other natural substances such as PLA polylactic acid, sugarcane pulp, cornstarch, fallen leaves, and recycled paper, compostable cup lids is a new age advancement in material technology that will nurture rather than harm the environment.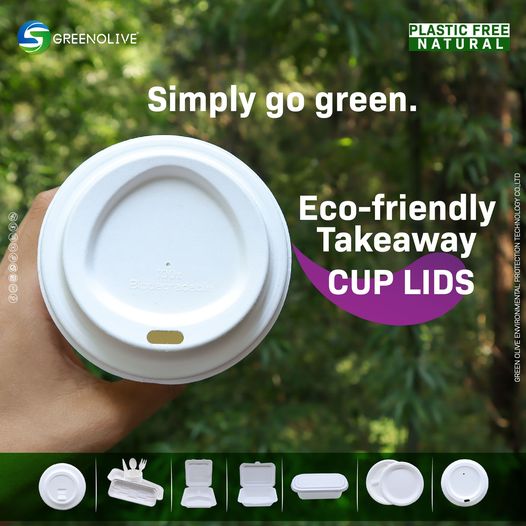 In order to have a healthy environment and keep our planet green, it is important to stop using plastic completely and switch to biodegradable cup lids that are completely natural and environmentally friendly.
There are many benefits to using a compostable cup lid as it provides a very good eco-friendly solution. These lids are not only natural but combine the flexibility and convenience of plastic or other lids with the environmental benefits of being fully biodegradable.
Still, considering biodegradable cup lids? Here are 6 amazing things about them that will captivate you:
1. No negative effects
Whether it's our health or the deteriorating state of the planet, both aspects of our lives are interconnected. The most important fact about using biodegradable cup lids is that they have a positive impact on the environment. Switching to eco-friendly lids, spoons, forks, plates, and glasses just means less plastic on our planet.
2. Compostable substrates
The biodegradable board is made of bagasse as the main raw material, which is a new type of biodegradable material. Bagasse, also known as sugarcane pulp. The properties of bagasse fibers can be naturally entangled together to form a tight mesh structure to make biodegradable containers. The new green paper cups with lids are not only as strong as plastic to hold liquids but also cleaner than those made from biodegradable recyclable materials, which may not be fully de-inked, after 30~45 days in soil Dropped and completely lost shape after 60 days.
3. Non-toxic:
Plastics are made from chemicals like phthalate biphenyl A and dioxins. And compostable lids, like bagasse or other products from PLA, are made from eco-friendly and 100% biodegradable materials.
4. Reduce marine pollution
According to a report published in National Geographic, the ocean is polluted with 18 billion pounds of various single-use plastics because they cannot be broken down. As of 2015, approximately 6,300 metric tons of plastic waste had been generated, of which approximately 9% had been recycled, 12% had been incinerated, and 79% had accumulated in landfills or the natural environment. Therefore, biodegradable cup lids help reduce water pollution by decomposing naturally.
Help reduce ocean pollution with biodegradable cup lids
5. Stronger than paper
If you think compostable lids are not durable, most biodegradable lids and cups are much better than plastic cups for holding drinks from a usability standpoint. Why? Because plastic cups often become damp and collapse when exposed to the heat, weight, and steam of a drink. And PLA polylactic acid products can withstand hot drinks, weight, and steam for a long time.
Sugarcane pulp is stronger than paper or plastic lids.
6. No special clean-up action:
While there are a lot of fun facts about using biodegradable cup lids, the best thing to do is not to take any special steps to clean them up. They don't need any garbage bags. Instead, all you have to do is put them in the compost bin and watch them break down on their own.