For China to achieve the goal of carbon neutrality in 2060, it means the arrival of a wide-ranging and profound economic and social systemic change. The green and low-carbon transition will force the transformation and upgrading of the economic development mode. "Decarbonization" has become an urgent task.
Faced with the challenges of plastic waste and marine microplastics to the ecological environment and health, the research and development, production and application of biodegradable materials have received attention and attention. my country's biodegradable plastics, as the development focus of the plastics industry during the "13th Five-Year Plan" and "14th Five-Year Plan" period, have developed rapidly.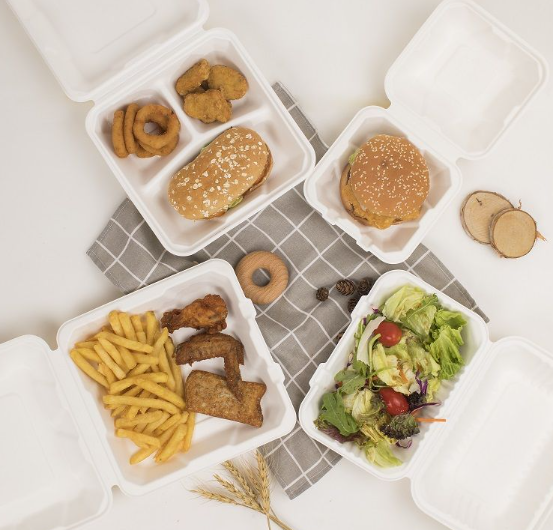 What is biodegradable material?
Biodegradation of materials refers to the process that materials are destroyed and mineralized and reintegrated into nature through microbial dissolution, enzymatic hydrolysis, and cell phagocytosis.
What are biodegradable cups and plates?
Biodegradable cups and plates refer to a lunch box that can undergo a biochemical reaction under the action of microorganisms (bacteria, molds, algae) enzymes in the natural environment, causing mildew in appearance to change in internal quality, and finally forms carbon dioxide and water. The whole degradation process can be decomposed into harmless substances without manual participation, which is a very long process. In addition to complying with the degradation performance of GB18006.3-2020 "General Technical Requirements for Disposable Degradable Tableware", the finished waste of degradable lunch boxes should also have recycling value, be convenient for recycling, or be convenient for sanitary landfill and high-temperature composting.
There are two types of materials used in biodegradable cups and plates: one is made of natural materials, such as bagasse, bamboo slag, straw, etc., which are degradable and are also called environmentally friendly products; the other is made of plastic as the main component, adding Starch, photosensitizer and other substances. It can be degraded in 90 days, and the landfill compost can return to nature, and truly achieve waste recycling and form a virtuous circle.
Biodegradable cups and plates have excellent performance, suitable for microwave heating, oven, can withstand 95 ° hot oil, 100 ° hot water, waterproof and oil-proof thick design. Exclusive products can be customized according to customer needs, so as to achieve low-carbon, differentiated, and anti-counterfeiting products to meet market demand. All products have passed national quality inspection certification, BRC food safety global standard certification, US FDA certification, EU EU contact material testing certification, German LFGB certification, FSC forest certification system, German room temperature home degradation and many other international standard testing certifications. Causes environmental problems such as white pollution.
Create green products, be a pioneer in environmental protection, and contribute our wisdom and strength to build a community of life between man and nature, and to solve the global "white pollution" problem.