Biodegradable tableware refers to tableware that can undergo biochemical reactions under the action of microorganisms (bacteria, molds, algae) and enzymes in the natural environment, causing mildew in appearance to changes in internal quality, and finally forms carbon dioxide and water.
There are two types of materials used in biodegradable tableware: one is made of natural materials, such as paper products, straw, starch, etc., which can be degraded, also known as environmentally friendly products; the other is plastic as the main component, adding starch, photosensitive agent and other substances. The "General Technical Requirements for Disposable Degradable Tableware" has stricter requirements for tableware that can be marked as "degradable". For example, the biodegradation rate must reach more than 60%, and the starch content of biodegradable tableware with starch components must not be less than 40%. Most domestic biodegradable tableware manufacturers can meet the above standards.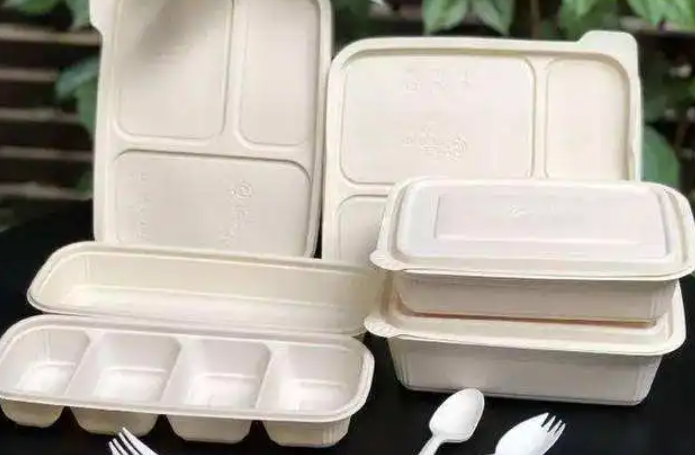 Disposable biodegradable tableware must be made of raw materials that are non-toxic, harmless, clean and non-polluting, and comply with national food hygiene and environmental protection regulations and standards. Do not use the following raw materials, additives, coatings and chemical preparations to make or process disposable biodegradable tableware:
1. Natural materials and their rough processed products without decontamination treatment;
2. Ineffective deterioration, mildew or contamination;
3. The content of harmful substances does not meet the hygienic standards;
4. Recycle recycled materials;
5. Fluorescent whitening agent.
Green packaging should meet three points: one is easy to recycle, the other is easy to dispose of, and the third is easy to absorb, that is, it is easy to be integrated by the natural environment, but even biodegradable tableware is not something that can be done in a short time. Many degradable products claim that the degradation time is three months to six months, but this is actually determined in a standard laboratory environment. In the natural environment, the degradation is affected by various factors such as temperature and humidity. Where there is no water, it is difficult to degrade." Under natural conditions, degraded products take at least one year to degrade.