1. Nowadays, many coffee shops use disposable coffee cups with lids to drink coffee, but the quality of these disposable coffee cups with lids is much higher than that of ordinary disposable paper cups, whether it is its safety or the quality of paper cups. The quality is better than ordinary paper cups. The weight of the disposable coffee cup with lid, its straightness, and the grammage of paper is higher than those of ordinary paper cups.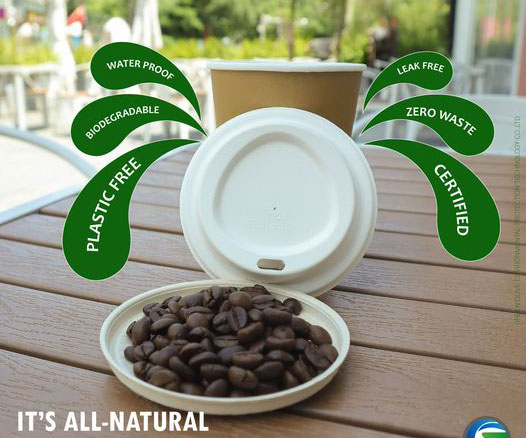 2. Disposable coffee cups with lids are divided into cold drink cups and hot drink cups according to their uses. Cold drink cups, as the name suggests, are paper cups that can hold cold drinks. Cold drinks have the characteristic that they need to be frozen or refrigerated, and the safe use temperature is 0°C-5°C. It is determined that the paper cup as a whole can be waterproof. Therefore, the body material of the cold drink cup is food-grade bagasse + wood pulp paper + inner and outer surface film. This can effectively prevent bagasse wood pulp paper from losing its original stiffness and toughness due to contact with moisture.
3. 100% biodegradable disposable coffee cup with lid, Green Olive Environmental Technology Co., Ltd. is an environmental technology company with plant fiber production technology as the core, integrating R&D, design, and integration. The disposable coffee cups with lids we produce are 100% biodegradable, odorless, non-toxic, natural in color, feel good, and have no sharp edges. Waterproof, neither hot nor cold coffee will leak. Suitable for freezer storage in microwave ovens and freezers, MOQ: 50,000 pieces, disposable coffee cups with lids can be used as advertising. For example, a variety of patterns can be printed on the surface of a disposable coffee cup with a lid: logos, texts, posters, pictorials, pictures, maps, calendars, books, etc.
4. We are the largest manufacturer of bagasse biodegradable disposable coffee cups with lids in China, with strong R&D advantages, more than 10 senior engineers with rich experience in the field of molded pulp packaging, and obtained a number of Chinese patents. Considering the global plastic limit, it is a new type of eco-friendly eco-product full of potential, and we will continue to develop new innovative eco-disposable lidded coffee cups with the best user experience at an affordable price.