The engineers at Ecocuplids used a set of "green" biodegradable disposable cups made from sugar cane and bamboo, which doesn't sacrifice convenience and functionality, and has the potential to be a replacement for plastic cups and other single-use plastic containers. Whereas traditional plastic or biodegradable polymers take 450 years, or at high temperatures to degrade, this non-toxic, eco-friendly material degrades in just 60 days and can be used cleanly for your breakfast soy milk and coffee.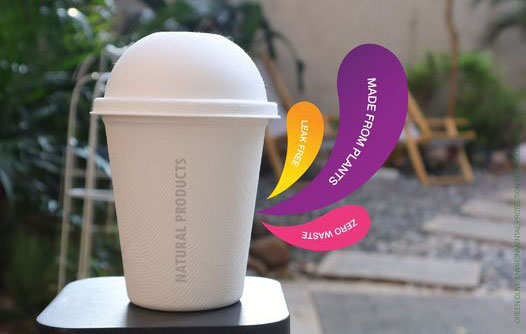 To find an alternative to plastic food containers, Ecocuplids engineers turned to bamboo and one of the largest food industry wastes bagasse, also known as sugarcane pulp. Long, thin bamboo fibers and short, thick bagasse fibers are intertwined to form a tight mesh structure, and Ecocuplids engineers used these two mechanically stable, biodegradable materials to create the container. Not only is this new green biodegradable disposable cup as sturdy as plastic to hold liquids, but it's also cleaner than those made from recyclable materials, which may not be fully deinked, and sit in the soil for 30~45 It starts to break down after a few days and loses its shape completely after 60 days.
It's hard to ban people from using single-use cups because it's cheap and convenient. "But Ecocuplids believe a good solution is to use more sustainable materials, use biodegradable materials to make these biodegradable disposable cups.
Ecocuplids is the largest manufacturer of bagasse biodegradable disposable cups in China, with strong R&D advantages, more than 10 senior engineers with rich experience in the field of molded pulp packaging, and obtained a number of Chinese patents. Considering the global plastic limit, it is a new type of eco-friendly eco-product full of potential, and we will continue to develop new innovative eco-covers with the best user experience at an affordable price.