Scientists have designed a set of "green" cutlery made from sugar cane and bamboo: biodegradable plates cups and cutlery, an improvement that doesn't sacrifice convenience or functionality, and can replace plastic cups and other single-use plastic containers. Unlike traditional plastics or biodegradable polymers that can take up to 450 years or require high temperatures to degrade, this non-toxic, eco-friendly material degrades in just 60 days and is clean enough for breakfast . A report on this plastic alternative has been published in the journal Matter.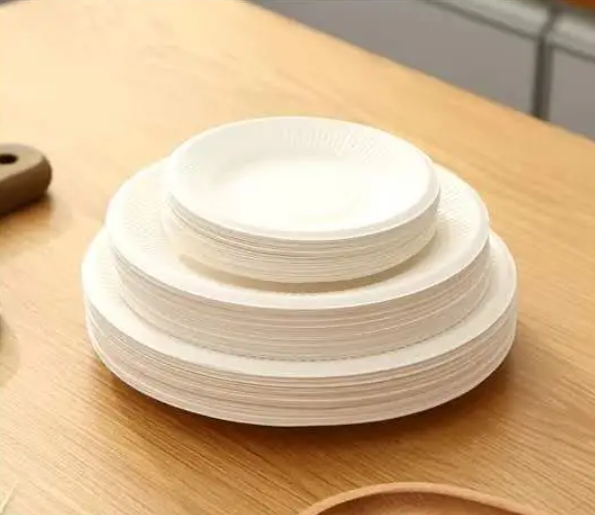 Corresponding author Julie, of Northeastern University, said: "To be honest, I first came to the United States in 2007 and was shocked by the availability of single-use plastic containers in supermarkets. Plastic products make life easier, but at the same time, it also It becomes garbage that cannot be decomposed in the environment." Later she saw more plastic bowls, plates and cutlery being thrown into the trash at seminars and parties, and it occurred to her that we could use more sustainable material?
To find an alternative to plastic food containers, Julie and her colleagues turned to bamboo and one of the most important food industry wastes: bagasse, also known as sugarcane pulp. By entangling long, thin bamboo fibers and short, thick bagasse fibers into a tight network, the team used the two materials to create containers that are mechanically stable and biodegradable. Not only is this new green tableware as strong as plastic to hold liquids, but it is also cleaner than biodegradable products made from recyclable materials that cannot be fully deinked. The new material begins to decompose after 30-45 days in soil, Completely out of shape after 60 days.
"Making food containers is a challenge. We need more than just biodegradability," Julie said. "On the one hand, a material that is food safe; on the other hand, the container needs to have good wet mechanical strength. And it has to be very clean because the container will be used for hot coffee, hot lunch."
Researchers have added alkyl ketene dimer (AKD), an environmentally friendly chemical widely used in the food industry, to improve oil and water resistance in molded tableware, ensuring the product is strong in wet environments sex. With the addition of this ingredient, the new cutlery outperformed commercial biodegradable food containers, such as other bagasse-based cutlery and egg cartons, in terms of mechanical strength, grease resistance and non-toxicity.
The tableware developed by the researchers also has another advantage: a significant reduction in carbon emissions. The manufacturing process of the new product emits 97% less CO2 than commercially available plastic containers and 65% less than paper products and biodegradable plastics. The team's next steps plan to improve the energy efficiency of the manufacturing process and further reduce costs, making it more competitive with plastic products. Although the cost of making cups from the new material ($2,333 per ton) is already half that of biodegradable plastic ($4,750 per ton), traditional plastic cups are still a bit cheaper ($2,177 per ton).
"It's hard to ban people from single-use containers because it's cheap and convenient," Julie said. But I believe one of the good solutions is single-use containers made from more sustainable, biodegradable materials container.