Environmental protection should be a meaningful thing, a valuable thing, and it should be an easy thing.
At this time, we need to use environmentally friendly materials. There are many environmentally friendly materials on the market, including cornstarch and PLA, but the real environmentally friendly materials must be compostable and degradable, and the biggest difficulty in compostable degradation is to solve the problem of kitchen waste composting. Simply put, compostable materials are composted together with kitchen waste, rather than designing a system for compostable materials alone. Compostable is just to solve the problem of kitchen waste. For example, paper cups with lids, if you drink half of the coffee, throw it away. If the paper cups with a lid are compostable, you can throw the rest of the coffee into the kitchen waste. Common composting in the waste disposal plant.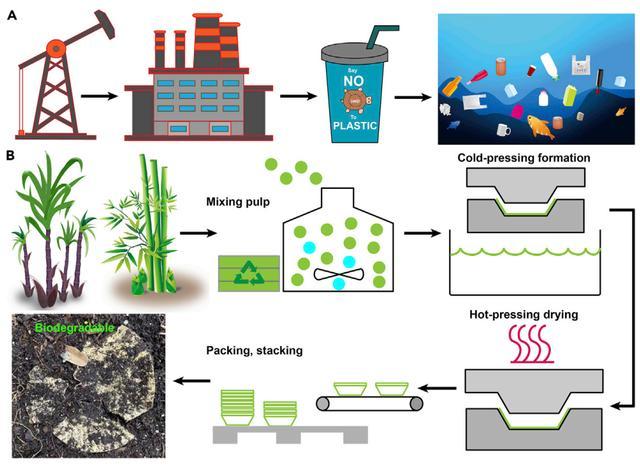 So is there a kind of paper cup with lid that can be degraded by compost? The answer is yes, that is sugar cane pulp paper cups with lid.
The raw material for sugarcane pulp products comes from one of the largest food industry wastes: bagasse, also known as sugarcane pulp. The properties of bagasse fibers can be naturally entangled together to form a tight mesh structure to make a biodegradable container. Not only are the new green paper cups with lids as strong as plastic to hold liquids, but they are also cleaner than those made from biodegradable recyclable materials, which may not be fully deinked, and sit in the soil for 30~ It starts to break down after 45 days and completely loses its shape after 60 days. The specific process can refer to in the figure below. A lot of research and product development has been invested at home and abroad.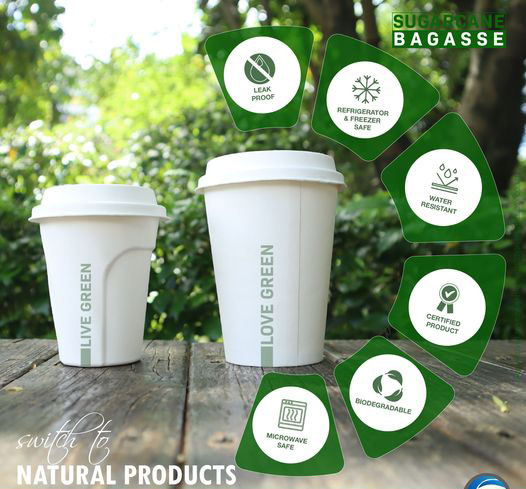 Green Olive Environmental Technology (Dongguan) Co., Ltd. is the largest manufacturer of bagasse biodegradable bagasse paper cups with lid in China. It has strong research and development advantages and has more than 10 senior engineers with rich experience in the field of molded pulp packaging. Obtained a number of Chinese patents. Considering the global plastic restriction, this is a new eco-friendly eco-product full of potential, and we will continue to develop new innovative paper cups with lid with the best user experience at an affordable price.
Our biodegradable paper cups with lid adopts advanced scientific formula and cutting-edge automated production line and technology and is made from natural plant fiber pulp such as seeds, bagasse pulp, bamboo pulp, etc. It is completely environmentally friendly and biodegradable. Fully meet the strict food-grade requirements of FDA, LFGB, and other countries for food contact packaging materials.