Green Olive has developed compostable coffee lids made from bagasse, a pulp made from sugar cane.
Food brands in Germany, Benelux, Scandinavia, France, Italy, Spain, the UK, and more will be able to replace with a cost-effective alternative that is a compostable, breakable, and PFAS-free plastic cap. The company claims the lids will help food brands meet their environmental sustainability commitments without sacrificing performance.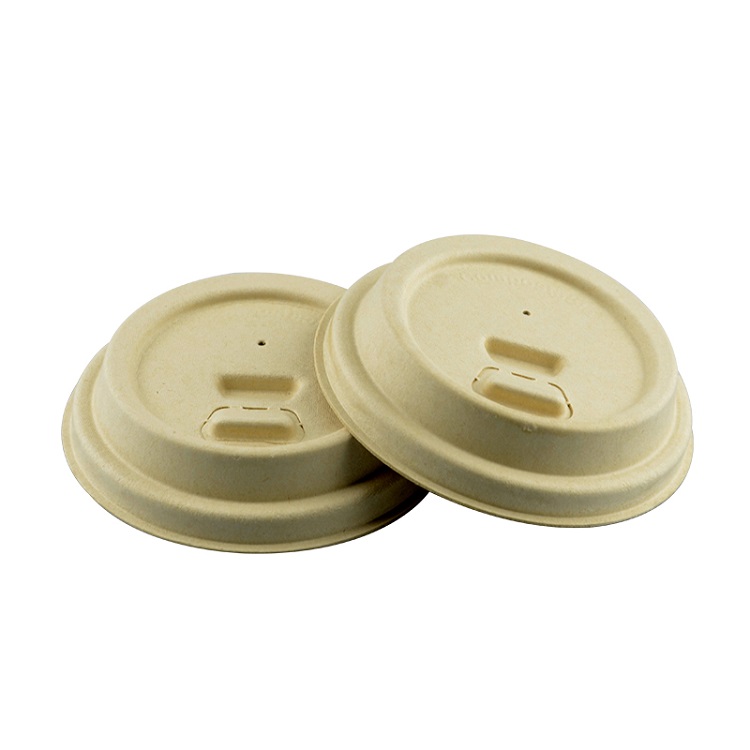 Learn more about plant fiber molded products
Many fiber-based alternatives cannot withstand hot liquids and either deform or break down, making them unsuitable for coffee.
Through extensive research and development combined with our advanced manufacturing technology, we can transform natural materials such as bagasse (a pulp made from sugar cane) into our advanced eco-friendly sustainable snap closures.

1. Find the right fiber for coffee lids

It's not easy to develop a snap-on lid that can hold hot coffee, let alone make it compostable. It starts with considering why brands choose plastic: because it's cheap, convenient, and practical, he said.
"Despite these qualities, we all have plastic lids that either leak or don't fit the cup at all. There's nothing more frustrating than that for a coffee drinker."
"Our proprietary formula consists of a variety of natural fibers, depending on what can be sourced locally and sustainably [environmentally] near our manufacturing facility."
"These lids, in particular, are produced in China, so they are mostly made from bagasse (a pulp made from sugar cane), but we also use bamboo, agricultural waste, wheat, straw, cork, and other natural materials to make them Our advanced environmentally sustainable packaging."
According to Green Olive, the flexibility of the material enables it to expand our molded fiber solutions to global manufacturers, regardless of their available resources. "By choosing to produce our packaging from these fibers, we can significantly reduce our carbon footprint during production and disposal, while reusing natural materials that would otherwise be wasted."

2. Carbon reduction

When asked how fiber-based lids compare to traditional plastic lids, Green Olive emphasized that the latter are "completely environmentally unsustainable and would be catastrophic if we didn't stop using single-use plastic."
Because plastic lids and single-use coffee cups can take decades to break down and release harmful microplastics that contaminate our food, water, and bodies.
"Unlike plastics made from important materials such as coal, crude oil, and natural gas that are harmful to the environment and contribute to global warming, our solution is made from recycled natural materials such as bagasse, which significantly reduces carbon in production emissions.
"From harvesting to production to disposal, our lids are committed to significantly reducing our carbon footprint and eliminating plastic waste throughout its lifecycle, while helping global brands meet their [environmental] sustainability commitments."
3. European coffee drinkers, the vast consumer market

Europe consumes more coffee than any other continent, resulting in excessive waste from plastic lids. The environmental sustainability solutions company says that in the UK alone, 2.5 billion coffee cups and lids are thrown away every year, but only 0.25% are recycled and the rest ends up in our landfills or Spill into our waterways.
Despite constant calls from regulators to reduce plastic waste, food brands cannot eliminate plastic from takeaway cups without viable alternatives. Green Olive is providing a solution with the launch of an environmentally sustainable snap-on coffee lid on a scale large enough to free Europe from single-use plastic lids.
As brands, we have a responsibility to prioritize our environmental impact in line with our bottom line; with our eco-friendly coffee lids, food brands can now do both.
"Our molded fiber lids have the same premium feel and function that coffee drinkers have come to expect, and demonstrate what's possible when you combine an environmentally sustainable mindset with world-class engineering and product design. It becomes a cost-effective alternative to plastic.
Green Olive's coffee lids are part of the company's larger line of compostable food and beverage packaging. Green Olive's products include leak-proof hot cup lids, mugs, bowls, meal delivery containers, three-piece meal trays, and more, helping the world's largest food brands accelerate their transition away from plastic and Styrofoam without the use of harmful chemicals transformation.
We are the largest bagasse biodegradable disposable reusable ecological coffee cup lid manufacturer in China, with strong R&D advantages, more than 10 senior engineers with rich experience in the field of molded pulp packaging, and obtained a number of Chinese patents. Considering the global plastic limit, it is a new eco-friendly eco-product full of potential, and we will continue to develop new innovative eco coffee lids with the best user experience at an affordable price.